Grill & Chill - Afterwork Event with Deloitte
Sign up until September 3, 2023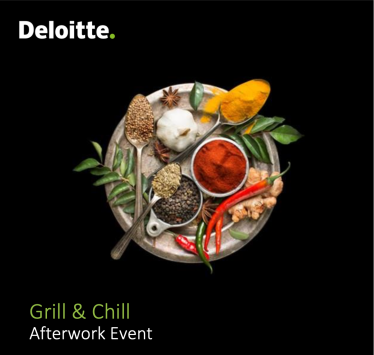 Deloitte invites you to its Grill & Chill - Afterwork Event at various office locations between September 6th and 15th, 2023!
During this event, bachelor's and master's students have the opportunity to casually learn more about Deloitte's businesses, including Audit & Assurance, Consulting, Financial Advisory, Risk Advisory, and Tax & Legal. Gather information about your personal career prospects in a relaxed atmosphere. The event provides the perfect opportunity to establish new connections, network, and engage with different teams in an informal setting to discuss exciting and current topics as well as career opportunities. Additionally, there will be a barbecue and refreshing beverages on site, creating a comfortable environment to wrap up the evening with Deloitte's teams.
The event will take place on the following dates and office locations:
September 6th in Düsseldorf
September 7th in Hamburg
September 14th in Berlin
September 15th in Munich
The application is possible until September 3, 2023 here.