University of Muenster team becomes division winner at the 41st John Molson MBA International Case Competition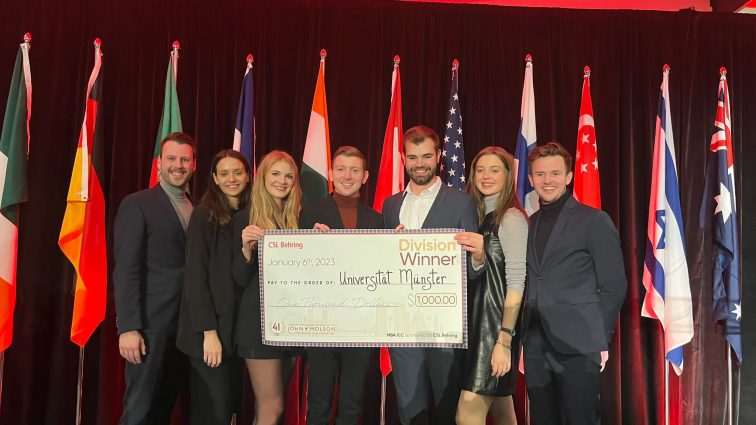 We are more than happy and proud to announce that our University of Muenster team once again returned successfully from the 41st John Molson MBA International Case Competition in Montréal, Canada. Our team did an outstanding job at representing our university in one of the world's most renowned case competitions!
This year's team, formed by Birte Cappenberg (Major Management), Marie Macha (Major Accounting), Patrick Pohla (Major Information Systems) and Simon Prinz (Major Accounting) performed exceptionally during all five cases in the round robin and remained undefeated to secure the division win. In a final-worthy semifinal, our team was closely defeated by Nanyang Business School, but nevertheless demonstrated another outstanding performance.
We are also delighted to say that our alternate team member, Theresa Hilp, was given the opportunity to fill a spot in the TU Dublin team. Albeit missing the final, we are more than honored to have met so many outstanding people during the course of this intense and joyful week.
Our institute wants to express our deepest gratitude and respect to our team for this phenomenal performance and commitment! Lastly, we would like to thank everybody else involved, the organizers, the volunteers and of course all the other participating schools and coaches. Without them, this competition would not have been possible! We are already looking forward to next year's competition!