New Mastermodule: Applied Business Simulation Mentoring starting this Wintersemester 2022/2023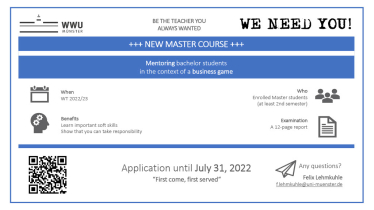 We invite Master Students to participate in the new Mastermodule Applied Business Simulation Mentoring in the winter term 2022/2023. In this course, you will mentor groups of undergraduate students with a business simulation game. Throughout the semester, you will have the opportunity to discuss the mentoring with your fellow mentors. At the end of the course, you will be required to write a twelve-page reflection on your mentoring, which will count 100% towards your grade.
Although the course spans the entire semester, the main workload will be in the second term.
How can I get credits for the course?
  - Major Accounting: Elective
  - Major Finance: Selected Chapter Finance or Elective
  - Major Management: Selected Chapter Management
  - Major Marketing: Elective
Please register here.