Recap of Hannover Messe 2023
Exploring the Digital Transformation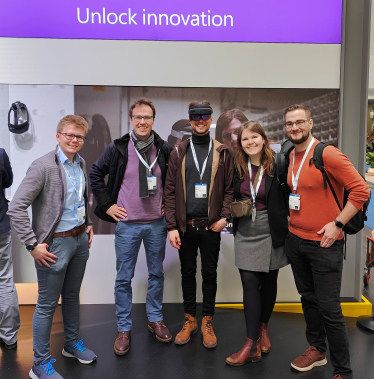 The University of Münster's Chair for Digital Transformation recently attended the Hannover Messe 2023, where the team immersed in lively discussions and hands-on experiences related to digital transformation, the Metaverse, and extended reality (XR) technologies. The event was a great opportunity for the team to explore cutting-edge technologies and connect with professionals from both industry and academia. In addition, Hannover Messe was a treasure trove of panel discussions, including a thought-provoking debate on the role of the Metaverse in future work environments and the successful implementation of this innovative technology.
Throughout the event, the Chair for Digital Transformation had the opportunity to explore the latest XR technologies, including state-of-the-art augmented reality (AR), virtual reality (VR), and mixed reality (MR) devices. These innovative solutions promise to revolutionize future work, education, collaboration, and customer engagement, echoing the themes discussed during the recent virtual workshop at the ChanCe Virtual Office.
Reflecting on the insights gained from Hannover Messe 2023, the Chair for Digital Transformation at the University of Münster eagerly anticipates incorporating these experiences and new insights into the ongoing research and teaching. We are excited to continue exploring the possibilities of XR technologies and the Metaverse in business transformation and look forward to attending next year's event.
Stay tuned for the latest developments in this exciting field and learn how you can actively get involved in the University of Münster's research on business transformation through XR technologies!