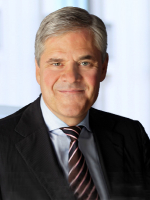 Prof. Dr. Dr. h.c. Andreas R. Dombret
From 1982 to 1987 Hon. Prof. Dr. Dr. h.c. Andreas Raymond Dombret studied at the University of Münster School of Business & Economics. These academic studies were the basis for his successful career in organisations of international banking. His international career in banking includes positions at Deutsche Bank, JP Morgan, Rothschild and the Bank of America. From 2010 to 2018 he was a board member of the German Federal Bank (Deutsche Bundesbank). Since leaving the Bundesbank in May 2018, he has also held regular lectures at Columbia University in New York. Andreas Dombret has been research active for many years and is the author of various articles and books.
After working for the Bundesbank, Andreas Dombret returned to the private sector and now advises international financial service providers. As Global Senior Advisor to the management consultancy Oliver Wyman, on the Global Advisory Board of the Japanese major bank Sumitomo Mitsui, he advises the British research provider Autonomous and the Hamburg-based FinTech Deposit Solution. Finally he is the International Senior Advisor to the Los Angeles-based investment bank Houlihan Lokey.