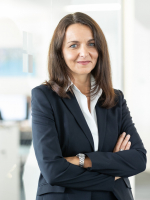 Stefanie Buckmann
Position:
Member of the Executive Board
Since August 2016 Stefanie Buckmann is a member of the board of best practice consulting AG and is responsible for the division Public Sector and the department "Finance". At practice consulting AG she is primarily responsible for the introduction of SAP in non-profit organizations as well as the digital processing of incoming invoices in the public sector.
Stefanie Buckmann was born March 16, 1975 in Greven. After graduating from high school, she first completed an apprenticeship as a data processing specialist, before she studied Information Systems at the University of Münster from 1997 - 2002 and graduated as the best in her class. Ms. Buckmann's professional career began in 2000 as a working student at best practice consulting AG. Her work at best practice consulting AG as a consultant, unit manager and branch office manager (Münster), then led her to the board of directors.