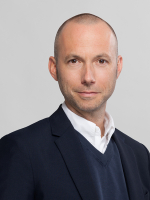 Dr. Mirko Caspar has been Managing Director of Mister Spex GmbH since September 2011 alongside company founder Dirk Graber. The 46-year-old (born 1972) marketing strategist is responsible for the areas of Marketing, CRM & Customer Experience, Category Management, Public Relations and Product Management.
During his professional career, Caspar was able to gain a lot of experience in brand communication. Since 2006 he has been working as a marketing consultant and entrepreneur, among others as founder and shareholder of Userlutions and cpi Celebrity Performance. Until the end of 2010 he was managing partner at the virtual world company Metaversum. Before that, he held a leading position at the entertainment group Universal Music for four years. At Universal Music Caspar was also in charge of a subsidiary firm for mail order and direct marketing as managing director. From 1998 to 2003 he played a key role in developing McKinsey's strategic brand management tool as a management consultant and project manager.
Caspar studied Business Administration at the University of Münster. That's where Caspar, who was born in Kassel, completed his doctorate on brand strategies under Professor Heribert Meffert.