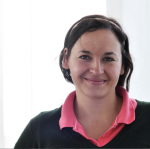 Dr.
Pia Furchheim
Home university:
University of Lausanne, Switzerland
Date of the visit:
16. October 2017

to

19. October 2017
About

Pia Furchheim is Junior Lecturer at the Department of Marketing of the University of Lausanne, Switzerland. Her areas of research, bundled under Transformative Consumer Behavior, include Materialism, Materialism and Green Consumption (Green Materialism), Industries of Immersion and Self-Transformation and Flow Experience.

While visiting the Marketing Center Münster, Pia Furchheim will be teaching several lectures of the course "Consumer Behavior" for master students. Objectives of this course are amongst others to expand students' knowledge of consumers' decision making and information processing, and to gain experience in formulating behavioral pricing and product development coherences.