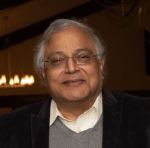 Prof.
Murali Mantrala
Date of the visit:
18. March 2023

to

23. March 2023
About

The Marketing Center Münster is delighted to welcome Professor Murali K. Mantrala from the University of Kansas. He will stay at the MCM from March 18 to March 23.

Murali K. Mantrala is the Ned Fleming Professor at the University of Kansas School of Business. He is a professor emeritus of marketing at the University of Missouri, Columbia, distinguished visiting faculty member at S. P. Jain Institute of Management and Research (SPJIMR), Mumbai, and senior research fellow at the Indian School of Business.

Professor Mantrala has published extensively in leading journals (e.g., Journal of Marketing, Journal of Marketing Research, International Journal of Research in Marketing) on topics such as retail pricing, category management, advertising and sales resource allocation, sales force compensation, and two-sided platform marketing strategies. Several of his research papers have received awards, including the 1998 Frank M. Bass Best Dissertation Paper Award of Marketing Science; the 2013 Best Paper Award of Journal of Interactive Marketing; and honorable mentions for the 2013 and 2017 Davidson Award of Journal of Retailing. Furthermore, Professor Mantrala was co-editor-in-chief of Journal of Retailing (2015-17) and serves on the editorial boards of multiple leading research journals of Marketing. On top of that, Professor Mantrala is a recipient of the Humboldt Research Award from the Alexander von Humboldt Foundation in Berlin, Germany in 2010, the Don McBane Award for his lifetime contributions from the AMA Sales SIG in 2020, and the AMA Retail and Pricing SIG's Lifetime Achievement Award in 2021.

We are looking forward to his time at the Marketing Center Münster and are curious about having an inspirational time.