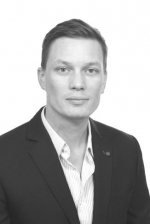 Dr.
Martin Rode
Home university:
Universidad de Navarra, Spain
Date of the visit:
29. May 2017

to

2. June 2017
About

Martin Rode is Assistant Professor at the Universidad de Navarra, Spain. He obtained his PhD in Economics (with honors) from the Universidad de Cantabria, Universidad de Oviedo and Universidad del País Vasco, Spain and conducted research at the Florida State University, USA, the University of Aarhus, Denmark, and the Ifo Center for Public Finance and Political Economy in Munich, Germany. His research focus is on political economy, institutional economics, public choice and the economics of happiness. His current work puts emphasis on exploring the interplay between economic freedom, welfare and life satisfaction perceptions of citizens as well as the interaction of political and economic institutions.

Dr. Martin Rode is visiting the Chair of Political Economy to give the lecture on "Advanced Public Choice" (Master and PhD level) from May 29 to June 2, 2017.