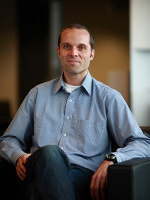 Dr.
Bodo Lang
Date of the visit:
1. August 2018

to

10. August 2018
About

The Marketing Center Münster is delighted to welcome Dr. Bodo Lang from the University of Auckland during his visit to Germany. He will stay at the MCM from the 1st to the 10th of August. We are especially glad that he will accompany the team of the Institute of Marketing to a doctoral seminar taking place in Rothenberge.

Dr. Bodo Lang's career is a blend of commercial and academic sectors. He gained profound working experience in advertising in Germany, as a consultant for Deloitte in New Zealand and as a market researcher for NFO WorldGroup in Singapore. As a lecturer in the marketing department at the University of Auckland Business School, he obtained outstanding academic knowledge. Currently, he is working at the university as a Senior Lecturer and Deputy Head of Marketing.

In his research, Dr. Bodo Lang mainly focuses on marketing communication and advertising, the sharing economy and services marketing. He published several studies in international prestigious journals, such as Journal of Advertising and Journal of Business Research. For his excellent work he has been awarded at multiple conferences.

We are looking forward to his time at the Marketing Center Münster and are curious about having an inspirational time.