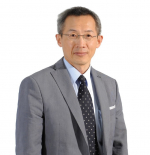 Professor I-Doun Kuo
Home university:
Tunghai University, Republik China (Taiwan)
Date of the visit:
1. October 2018

to

31. July 2019
Professor I-Doun Kuo (Tunghai University) besucht das Center for Quantitative Economics (CQE) bis zum Ende des Sommersemesters 2019. Im Rahmen seines Aufenthalts wird Professor Kuo das Center in Forschung und Lehre unterstützen.
Als Teil der Internationalisierungsstrategie der Wirtschaftswissenschaftlichen Fakultät trägt das "VIP"-Programm dazu bei, das internationale Forschungsnetzwerk des Fachbereichs weiter auszubauen, während Studierende von den Erfahrungen und Kenntnissen renommierter internationaler Dozenten profitieren können.